Objective of Pofib
Advise, train and support institutions which deliver services resulting in improved access to financial services for the un- and under-banked.
The business model is a mass retail banking concept based on involvement by these financial services providers of post office and other agent networks in rendering these services .
The institutions deploying this branchless banking concept are financial sector institutions and other service providers which are focused on mass-retail financial services, such as postal banks and (postal) savings bank in co-operation with postal companies and post offices networks.
A growing share in the mass retail financial services market is being gained by non-banking institutions such as remittances operators like mobile operators and international money transfer organizations and of course micro finance initiatives in the broader sense.
Improving the accessibility has also to be fulfilled through improving the existing (postal) financial services along developing and implementing new retail financial services also for un- and under-banked people.
POFIB Development BV is a 'low-profit' company with its main commercial objective to cover full costs for its support services. It has a limited commercial objective to be realised via technical assistance services (advisory and training services).An important objective of Pofib is supporting the social economic component of improving access to financial services for the un- and under-banked.
Support is being offered through the Links web site based on free access to all offered links and information.
Further Pofib supports through transfer of knowledge via seminars and congresses and other information networks also focused on the purpose of 'improving access to financial services for the poor'
Total overview of POFIB services and the involved company sectors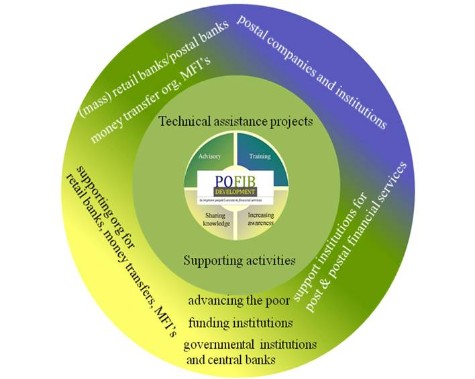 Through the Contact us website visitors can reflect on the content of the Pofib website and can also request information fee based technical assistance services (advisory services and training).